Generation and partners to launch customer care agent employment training program in Charlotte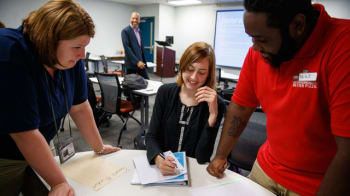 Generation is partnering with a collection of employers and community organizations in Charlotte to launch a new skills training program for youth and unemployed adults interested in the customer service industry. Employer partners include Atrium Health, Bank of America, Coca-Cola Bottling, Duke Energy, Novant Health, and Wells Fargo. The program will be supported by Charlotte Executive Leadership Council, Charlotte Works, and Goodwill Industries of the Southern Piedmont.
After completion of the program, students in good standing will have an opportunity to interview for positions with the employer partners. The new customer care agent program is free for students and begins on September 17.
"Generation is excited to team up with Charlotte Works, Goodwill and local corporations to bring our first program to Charlotte," said Generation U.S. Chief Operating Officer Sean Segal. "By bringing together the proven success of Generation's programs and our partners' experience in the Charlotte community, we are sure to see the impact of providing youth with sustainable careers and employers the talent they need to succeed."
The partnership will launch a collaborative employer-focused program in Charlotte, North Carolina in September to reach 100 young adults during the pilot phase. The customer care agent program is designed to develop skilled individuals capable of meeting the continued demand for front-line contact center positions in Charlotte. Involving potential employers in building the program curriculum reduces uncertainty about finding individuals with the right skills. The structure also helps to ease the stress of finding the "right job," potentially reducing rates of employee turnover.
"Working together with other local companies, we can create a program designed to provide required training and help people find jobs where they can succeed," said Chris Payton, Bank of America's global talent acquisition executive. "If they have the right skills when they walk in the door, they will be better positioned to grow and take on new responsibilities within that company."
"Charlotte Works is excited for the collaboration with Goodwill Industries of the Southern Piedmont and Generation to prepare career-seekers with the skills needed to work as a customer care agent," said Charlotte Works' Chief Operating Officer Danielle Frazier. "This collaboration is employer-led to ensure we are preparing career-seekers with the exact skills our local employers need for these occupations. As the workforce development board in the Charlotte area, we look forward to helping provide organized opportunities that prepare people for available careers and connecting businesses with skilled workers."
Students will learn how to deliver exemplary customer experience, tools for stress management, and workplace professionalism through direct and hands-on experiences. The customer care agent program also focuses on developing product knowledge, upselling, cross-selling and positive communication skills with customers. Generation instructors provide students with direct support to help cultivate professionalism and communication skills. Every student receives a weekly stipend during the five-week program. The program will take place at the Goodwill Opportunity Campus in Charlotte, North Carolina.
"We are pleased to partner with the Charlotte Executive Leadership Council, Charlotte Works and Generation to provide this training for people in our region – at no cost to them," said Chief Program Officer for Goodwill Industries of the Southern Piedmont, Raquel Lynch. "We know proficient customer service skills transcend jobs and industries and help job-seekers create a foundation for career longevity. It's important to meet the demand for talent in our community and provide access to family-sustaining employment to help people in our region find stability and achieve upward mobility."
For more information about the program, please visit, www.generation.org.