Generation and the Dallas Community Look Forward to 2019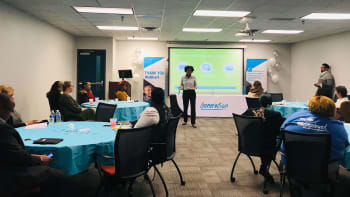 New Programs and Partnerships Open Opportunities for Students and Employers
1 Year = 365 Opportunities. That was the theme for the Meet and Greet event hosted by Generation's Dallas team in December. Community members and prospective Generation students gathered over pizza and snacks, sharing holiday plans and thinking about the coming new year. Talk quickly turned from traditions to hopes for a fresh start and new career growth in 2019.
"Generation is all about plugging in young adults who may have experienced barriers to becoming employed," said Dallas program manager Demetra Brown. "In 2019, we are so excited to grow and make a larger impact in the Dallas community."
New Partnerships Are Brewing
Since launching in August 2017, Generation Dallas has grown from one program to three: the Customer Care program in partnership with Starbucks, the Machine Operator program in partnership with Stanley Black & Decker, and the hybrid, part-time Customer Service Supervisor program in partnership with the Walmart Foundation.
Innovation is at the heart of Generation's work, and the latest program provides a creative, community-focused approach to skills training. On Jan. 7, the recently opened Starbucks community store at the Red Bird mall won't just be serving up coffee. The newest class of Generation students will meet in the store's community center, as they begin the Dallas Customer Care program.
Funded by a grant from the Starbucks Foundation, the Customer Care program will focus on Dallas residents, ages 16 to 24, who are unemployed or underemployed and interested in customer service roles.
"The idea is to make it accessible to the young people there, especially because in Dallas transportation is the biggest issue," says Brown.
Customer Care students will receive training and mentorship and get connected with customer service job opportunities at places like Starbucks, as well as other local business that have worked with Generation already, such as Magnolia Dallas Downtown hotel and the Hilton Garden Inn Downtown Dallas.
Laying the Groundwork
The excitement for the new Starbucks partnership is a testament to the foundation that Generation's team, students, alumni, and partners have been building since August 2017 when the first Customer Service Supervisor program began, getting the word out for the first class wasn't easy.
"It was a lot of grassroots community building," recalls Brown."We went door-to-door to community organizations and churches with flyers, hoping to connect with people. And we physically went out to where we believed young people would be during day, to connect with them directly and put flyers in their hands."
It wasn't just the Generation team working hard. The students and graduates of the Customer Service Supervisor program continue to thrive long past their graduation. More than 60 students have already completed the program that has an 86 percent graduation rate and an 88 percent 90-day job retention rate.
Behind each graduate is a story of perseverance and growth. Before Mary got involved with Generation, she often lacked the motivation to follow through on her goals. "Generation gave me that belief in myself," she says. "I am more confident in my ability to do more and to grow. And it's made my mind greater. It makes me want to grow even stronger. So it completely changed my life."
It also landed her a job at the Hilton Garden Inn in Dallas, after she caught the eye of senior human resources manager Rahim Saafir during a tour he was giving for Mary's Generation class. "I see that confidence in her when she walks in the door and when she's trying to assist guests," says Saafir. "And I truly am looking forward to seeing great things from her."
Diamond, another Dallas Generation student, had been asked to move up into management at past retail jobs, but she was always too afraid to take that next step. Now she feels a lot more inspired and prepared to embrace new career challenges. Since completing the Customer Service Supervisor program, she's been in the top-two for sales in her department at Nordstrom, something she had never achieved before.
"Generation brought things out of me that I didn't even know was there," she says. "Now I'm excited about going to work. I have more confidence, and I'm happier than ever."
Going Further, Together
The third Generation program in Dallas, Machine Operator, kicked off in October 2018. Students in the program receive training on how to operate industrial machinery and are guaranteed an interview with Generation partner, Stanley Black & Decker.
Like all Generation programs, the Machine Operator program aims to address the needs of the employer by finding the type of trained workers they need in a tight job market or improving employee retention using a comprehensive curriculum that blends technical knowledge with soft skills development. During each class, students learn how to operate advanced manufacturing technology, how to be resilient when faced with a challenge, and how to communicate effectively with supervisors and colleagues. Generation worked closely with Stanley Black & Decker to design a tailored curriculum, based on their needs.
This collaboration illustrates how local employers and the community benefit from Generation's programs, just as much as their students do.
"When it comes to employers, we like to think we've been a conduit for finding talent, and talent that's eager to be successful and show what they can do," says Brown. "And for the community at large, we've been invested and not afraid to go out and interact with people to figure out what the needs are."
"Our team started Generation's work in Dallas as three individuals with different backgrounds, yet with the same purpose and goal: to serve the community," says Joshua Boyce, partnership manager for Generation in Dallas and one of the three staff members who originally launched Generation. "All of us on the Dallas team are looking forward to what 2019 has in store for our students, our alumni, and our community."
For more information about Generation's work in Dallas, including the Customer Care, Customer Service Supervisor, and Machine Operator programs, visit generation.org/usa. All three programs are currently enrolling students.